iTop Newsroom
This feature displays "news" - supplied by iTop Hub - to iTop Administrators. When you are logged as an administrator, a new "Newsroom" icon is displayed at the top-right of the iTop page, next to the search and help icons.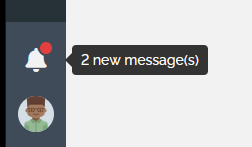 Clicking on this icon displays a popup menu with the messages. Each message - made of an icon and a short description - is actually a link to more information. Clicking on one of the messages opens the message's link in a new tab/window and marks the message as read, which removes it from the newsroom menu.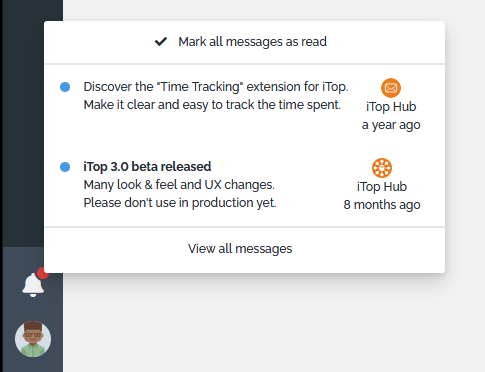 The small blue badge displays the number of "unread" messages in the newsroom (or "99" if there are more than 99 unread messages).
The number of messages to display in the drop down menu can be configured (for each user) in the "Preferences" page. Each source of news (currently there is only one source of news: iTop Hub) can be enabled or disabled (for each user) in the same "Preferences" page.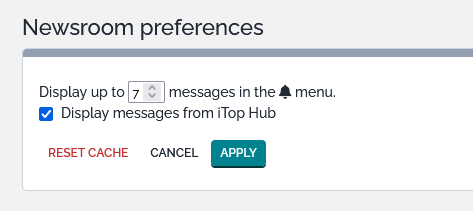 The whole newsroom mechanism can be disabled - for all users - by setting the configuration parameter "newsroom_enabled" to false in the iTop configuration file.
The news are fetched on iTop Hub directly from the web browser of the user using iTop (and cached in the local storage of the web browser). There is no connection from the iTop server to iTop Hub.
latest/admin/newsroom.txt · Last modified: 2023/07/21 10:19 (external edit)
Back to top