iTop Community Releases
Active branches
Branch
Version
Date
Main features
3.0.x
New look, quick create, colored status...
3.0.2
September 2022
OAuth 2
3.0.1
April 2022
3.0.0
January 2022
3.0.0 beta2
July 2021
3.0.0 beta
April 2021
2.7.x
Portal, Authentication, EnumSet
2.7.7
August 2022
OAuth 2
2.7.6
January 2022
Security
2.7.5
July 2021
2.7.4
April 2021
2.7.3
December 2020
2.7.2
November 2020
Security
2.7.1
July 2020
Security
2.7.0
April 2020
2.7.0 beta
December 18th, 2019
* Not published as a package to the Community
The 2.7 branch is a Long Term Support. Maintenance versions on this branch will be released during 3 years at least, followed by one year of security fix versions as needed.
Calendar view
Last update January 2022: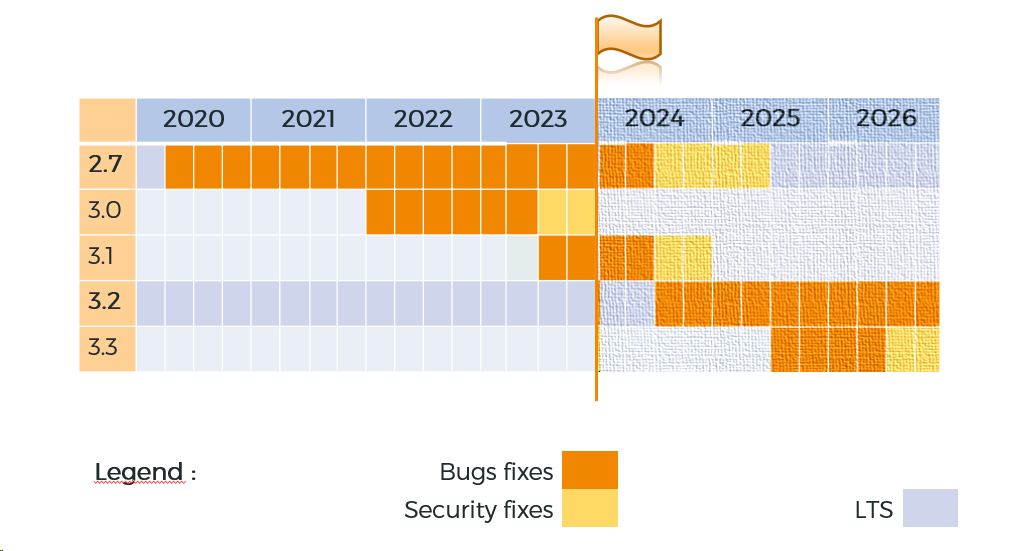 The 2.6 branch is no more maintained.

The 2.7 branch is the first Long Term Support (LTS) in iTop history.

The 3.0 is an Short Term Support (STS)

The 3.1 is an STS planned for the end of 2022

The next LTS should be the 3.2 and it is planned for the end of 2023
An LTS last until the next LTS is published + one year of security patch

An STS last until the next major version is published + 6 months of security patch
Stopped branches
No development are made on those branches anymore.
Not even security fixes!
Branch
Version
Date
Main features
2.6.x
Tag, Dashboard, Uniqueness rules, Trigger OnUpdate
2.6.4 *
April 2020
Security
2.6.3
February 5th, 2020
Security
2.6.2 *
July 4th, 2019
2.6.1
March 25th, 2019
2.6.0
January 9th, 2019
2.6.0 beta
October 29th, 2018
2.5.x
New search, Admin delegation, Sum in Dashlet, Aggregate Brick
2.5.4 *
January 22nd, 2020
Security
2.5.3 *
July 4th, 2019
2.5.2 *
March 25th, 2019
2.5.1
October 24th, 2018
Security + Search
2.5.0
July 11th, 2018
2.5.0 beta
April 26th, 2018
2.4.x
Mosaic in Portal, Archiving, Obsolescence
2.4.3
October 24th, 2018
Security
2.4.2 *
June 14th, 2018
Performance on: autocomplete, audit, portal scopes
2.4.1
February 15th, 2018
Caselog on transitions, Backup
2.4.0
November 15th, 2017
2.4.0 beta
July 12th, 2017
2.3.x
Formatted Caselog, Responsive Portal
2.3.4
June 15th, 2017
2.3.3 *
Dec 22nd, 2016
2.3.2
Oct 2016
2.3.1
Sept 2016
2.3.0 beta
July 2016
2.2.x
User portal
Doc 2.2.x
2.2.1
February 2016
2.2.0
September 2015
2.1.x
Doc 2.1.x
2.1.0
December 2014
2.0.x
DataModel 2.x in XML
2.0.3
Spring 2014 (July)
2.0.2
Fall 2013 (Dec)
2.0.1
Spring 2013 (May)
2.0.0
Fall 2012 (Dec)
1.x
Production version
Documentation no more available
1.2.0
Fall 2011
1.1.0
Spring 2011
1.0.0
Fall 2010
0.x
Beta version
0.9.1
Spring 2010
0.8.0
Fall 2009
0.7.1
Spring 2009
2_7_0/release/start.txt · Last modified: 2022/08/01 15:03 (external edit)
Back to top